A breadboard is a protoyping board to test out simple electrical circuits. It is sometimes easier to connect components to the Raspberry Pi with a breadboard, especially with an extension cable.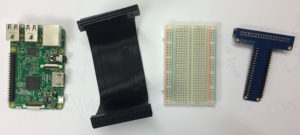 Step 1: Connect Breadboard and Connector
Push the connector into the breadboard. Try to apply even preassure on the entire connector.


Step 2: Connect with Cable
Connect everything as shown below. (It's important that the cable is placed as shown on the side of the Raspberry, since it may physically fit both ways.)