Balsamiq is a tool for creating wireframes, lofi mockups and crude prototypes.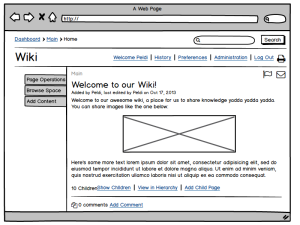 It can be downloaded as a desktop application on OS X and Windows. It also comes in a web app version, specially targeted at teams. There is also plugins for Google Drive, JIRA Cloud and Confluence Cloud. All versions come with a free 30-day trial period.
You can download Balsamiq Mockups at their site.
Useful resources:
* Tutorials on how to use Balsamiq
* Extensions to Balsamiq (controls, templates and other assets)