What is a Recipe?
This recipe explains how to write a recipe.
A recipe is a short description of how to achieve some goal in the lab. Ideally, a recipe is focused on a single task. Since technical documentation is quickly outdated, a recipe should be as general as possible and link to other resources when they exist.
How to Write A Recipe
Here are some rules for recipes:
Start with a summary that briefly explains what the recipe is for.
Use tags, and keep all tags lowercase.
Write the recipe in markdown syntax.
Adding Images
To add an image, upload it first with the Add Media button: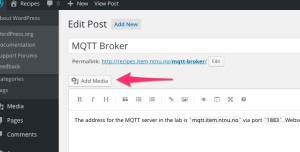 You can then include it in the post. (Even if you use Markdown syntax, you can use the html image tags provided by the WordPress editor.)